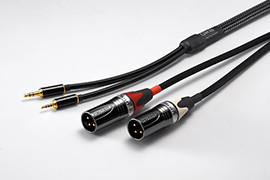 Clear force for DAP to AMP transmits the sound signal exactly and provides clear sound. We selected all parts carefully. All cables are hand-made in our factory by Meister craftsman to pick maxim potential of all parts up.

All cables are made by the ORB Meister craftsman and soldered with high technique and suppressing the sound transmission loss. The sound quality is clear and energetic with high S/N ration.

Using the outer net which is made in Japan is suppressing the vibration from outside. On the terminal, we use the audio grade terminal, and plating gun metallic color for it.
This product can connect to the amplifier which has XLR input from the digital audio player which has 3.5mm unbalance output and 2.5mm balance output.

You can easily enjoy the music with your DAP not only headphone and earphone but also by speaker system with Clear force for DAP to AMP!